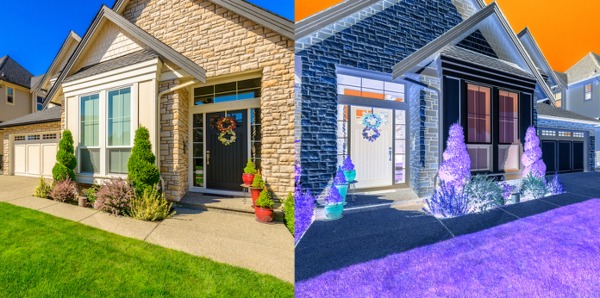 Maybe it looks pretty, but the new home you've fallen in love with could be a real stinker. A pretty face sometimes disguises trouble that lurks underneath. That's why you need a certified home inspector.
Home inspectors aren't impressed by home gadgets, shiny fixtures, and the latest interior colors or finishes. They look for indicators that the home is substantial, well-built and safe enough to serve you and your family well for years.
Here are some of the defects that your home inspector might find in a newer construction home.
Inferior Materials Can't Hold up to Ordinary Use
Inferior materials look pretty at first, but they aren't made to last. Some newer homes shine like a new penny. Unfortunately, they can turn shoddy within a few years.
Have you ever heard the term "contractor grade" as it applies to new lights, faucets and other fixtures? Contractors often buy in bulk to save money, but contractor-grade fixtures usually aren't top quality. That's why every home in a new subdivision often has a similar look, even if the floorplans are different.
In a brand new home, inferior materials might not be defects just yet. In one that's a few years old, your home inspector might find any of these defects that need attention:
Corroded light fixtures in kitchens, baths and outdoors
Corroded plumbing fixtures, such as faucets and shower sets
Warped interior and exterior doors
Foggy, multi-pane windows with broken gas seals
Squeaky stairs
Crushed carpet fibers from poor quality carpeting or inferior padding
Inoperable lights and outlets
Loose thresholds
Poor materials fail sooner than high-quality goods. Sometimes, the surface can't hold up to normal household use. Sometimes, materials stop functioning altogether. Either way, your home inspector knows what to look for.
Poor Workmanship Spoils the Best Fixtures and Materials 
Poor workmanship is at least as pervasive as inferior materials. Contractors might have a team of highly-skilled professionals on the job. However, they might also hire unskilled, temporary laborers for certain jobs and construction quality might suffer as a result.
There's an art to building a home. Anyone can drive in a screw or nail. A skilled worker has driven so many that they know how to prevent wood splits and avoid nail pops. For every element in your new home, there's a right and a wrong way to install it. Some issues are obvious at first glance. A thorough inspection might reveal any of these and many other defects:
Nail pops on walls, trim or anywhere through the home
Loose staircase handrails
Bouncy, squeaky floors
Broken or loose tiles (often from inferior materials, an improper substrate, poor workmanship or all three)
Loose plumbing fixtures
Corroded, interior-grade fasteners used in exterior work
Flaked stucco
Loose door and window trim
Concrete and mortar cracks
Streaked siding from improperly installed or missing gutters
Water in the crawl space or basement from improper grading
Roof leaks and loose shingles
Missing flashing around roofs and windows
According to NOLO, the builder might be on the hook for poor workmanship. If the home is newer but not brand new, your inspector's report can arm you with the knowledge you need to walk away or bargain for repairs before you buy.
Improper DIY Work Might be Unattractive or Worse
Spanking new homes aren't plagued by DIY work, but some homeowners love to take on projects. If the home you want to buy has had at least one previous owner, you risk a bit more than buying their taste in interior paint and flooring. You might also take on their DIY projects.
Some of the most common DIY projects are merely decorative. For example, the homeowner might have tried their hand at a faux marbling paint job around the fireplace or a new tile back splash. Decorative touches won't harm the home's integrity. If they've tackled something more, your home inspector can probably spot it.
Here are just a few of the jobs where Bankrate says homeowners can run afoul of good workmanship.
Interior-grade (untreated) lumber for outdoor projects
Broken tile flooring without a concrete backer board underlayment
Leaky tile showers without a waterproof barrier
Interior-grade paint used outdoors
Dangerous electrical work
Creative, leaky plumbing
Improper installation of appliances such as garbage disposals and dishwashers
Unpermitted work
A certified home inspector knows what to look for in relatively new and new-construction homes. The house you've got your eye on might seem nice or have a few cosmetic issues. The skills and trained eye of your inspector can tell you if there's something lurking underneath.
If you're buying a new home, Hire an Inspector has your back. We'll find a qualified home inspector in your area so you can breathe a little easier.