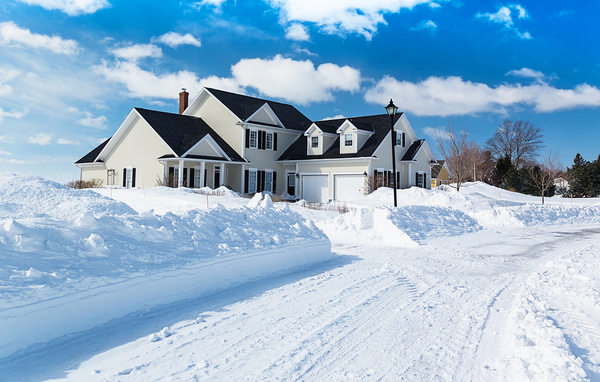 The weather is anything but predictable this time of year, which has a direct effect on your home inspection. Some parts of the home might be inaccessible in severe conditions, such as heavy snow and ice. And if an inspector tries to walk a slippery roof, he might very well land in the front yard. That's nobody's idea of a good day.
Fortunately, you have options. It might take two inspection attempts instead of one, or you might need to call in a specialist. But you won't have to resign yourself to a subpar home inspection report just because the weather doesn't play fair.
Talk With the Inspector Right Away
The inspector you hire might provide a foul weather policy up front. If not, and if a storm is brewing, give him a call as soon as you can. It's better to know up front than to be disappointed with surprises on inspection day.
Some inspectors work in an automatic second trip if there's inclement weather on the first home inspection attempt. All State Home Inspections says that's their policy, and it's not uncommon.
Caveat: Don't assume that the inspector will make a second trip for free. Some might charge extra, especially if it's a busy week. Ask up front about additional fees for return trips.
Some Inspectors Recommend a Specialist
In some cases, the inspector might recommend that you call a specialist instead of making a return trip. If the weather is terrible and shows no signs of easing up, a second inspection attempt a day or two later won't make much difference in accessibility.
Home inspectors are acutely aware of the liability issue if defects go overlooked. That's why Barry Stone of House Detective says inspectors might "recommend further evaluation of the attic prior to the close of escrow."
If the inspector encounters other accessibility issues, such as a stack of boxes blocking the attic hatch, he might also recommend a specialist or charge an additional fee for a return trip once the obstacle is removed.
Get the Homeowner Involved
Most home inspections happen just before a sale. As the inspection customer, you're probably not in possession of the house just yet. And that limits how much you can prepare the property for the inspector's visit. The onus, then, rests on the homeowner.
If you're concerned about snow piled up on the roof or other foul weather problems, give your real estate agent a call. Ask about contacting the homeowner. Chances are, everyone involved will share your concerns. Without a thorough inspection, the sale might fall through.
Areas of Concern
Rake snow off the roof
Ask about roofing-safe ice removal
Clear sidewalks, driveways and walkways
Remove snow and ice around the foundation
De-ice windows so they'll open and close
Avoid fireplace fires on inspection day
The real estate market swings into high gear in the spring, but fall and winter can be busy times, as well. Your home inspector probably has an inclement weather plan in place. But to set your mind at ease and avoid delays, make the necessary calls and learn about your options.
If a home inspection is on your horizon, you're in the right place. At Hire an Inspector, we have an extensive network of experienced pros who are ready to get the job done. Let us help find a home inspector near you.